Blue Moon (Susanne) and I took our first vacation in four years. It was long overdue and much needed. We hit the road around 10 a.m. on Thursday, September 16th and headed to Atlanta to stay and visit with some special friends. Then we arrived Friday afternoon in Charlotte, NC to spend the weekend with our oldest son and his girlfriend's family. After leaving Charlotte on Sunday evening we made the drive over the Appalachian Mountains to Pigeon Forge, TN. Of course, after doing the usual sight-seeing, attraction visits and eating, we began scouting out trout streams in the Smokey Mountains. We found several promising places to wade and fish for rainbow, brook and brown trout. That will be a trip in the future!
As we visited fly fishing shops, talked to guides and locals, our fishing desire began to peek. And being the couple we are, of course we packed 1 fly rod, 3 baitcasters , 1 spinning reel, waders, wading boots and fishing lures. So, after calling Smfisher (Alan) in Kentucky, we headed out Tuesday morning from Pigeon Forge and drove to Hazard, Kentucky to meet with him. Smfisher loves to fish and is one great guy to be on the water with. He is sacrificial, to say the least, and a joy to be with. This was our second time to be with him on some of Kentucky's beautiful streams. Last year he helped me in pursuing to catch my first smallmouth bass. However, flash flooding and tough fishing caused me to miss out on my goal. Would this year be different?
TUESDAY EVENING
Tuesday evening, we checked into a motel and followed Alan to a stream to fish for rainbow trout. Blue Moon and I have never fished for or caught a trout, and Smfisher was more than willing to give us a shot. We waded into a small stream and began casting. The fish seemed to be very skiddish.
After a couple of hours and just before we left, both Susanne and Alan each caught a small rainbow on rooster tails.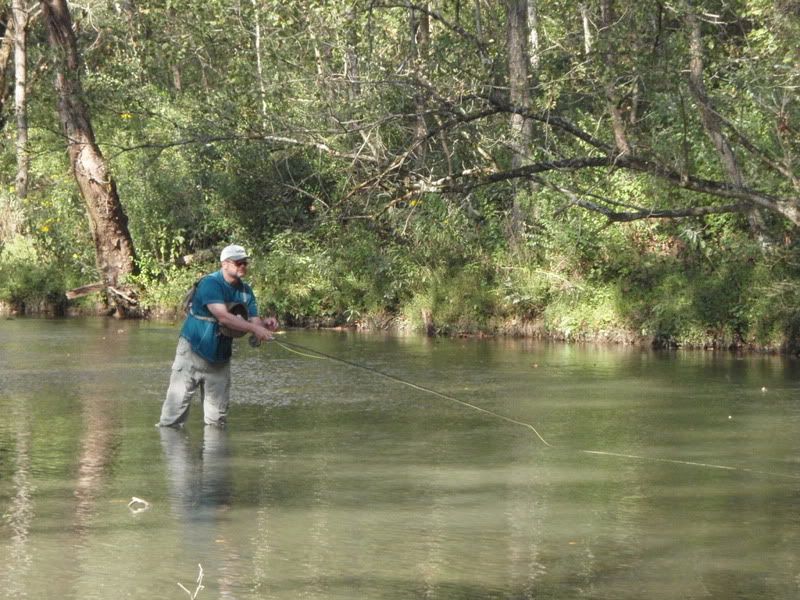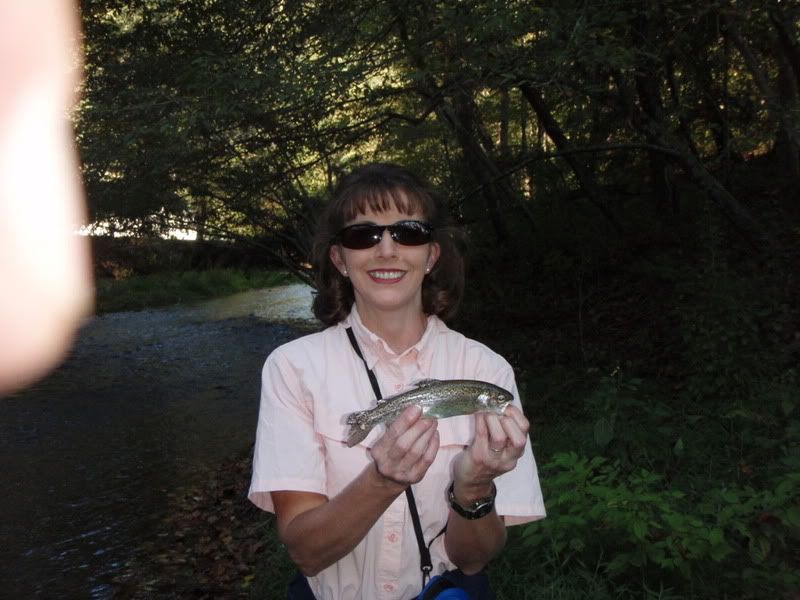 My Kentucky jinx continued as I used a salmon egg pattern for the fly rod. No rainbow for me.
WEDNESDAY MORNING
Then Wednesday morning, we followed Alan to another stream. It was even more beautiful than the previous one. Alan led me into a place where smallmouth would hold, and I began casting a white spinner bait. Soon I got a hook up and began fighting a smallmouth, however, as I got him close he came unbuttoned. Then it happened a second time!! Would the jinx continue? Would I fail to reach my goal, again? Would I have to drive back to Mississippi hearing jokes about getting skunked?
As Susanne and Alan watched with anticipation I could feel their hope building. I think they wanted it as bad as I did. Then it happened! A smallmouth hammered my spinner bait and I got a good hook set. Alan, said, "You got him." I responded, "Don't count it too early, he's not in hand yet!" He said, "Use your net!" Finally, it had happened! I had my first smallmouth in hand! It had been 13 months since my first failed attempt, but now I had him! It wasn't a monster, but I will never forget this moment!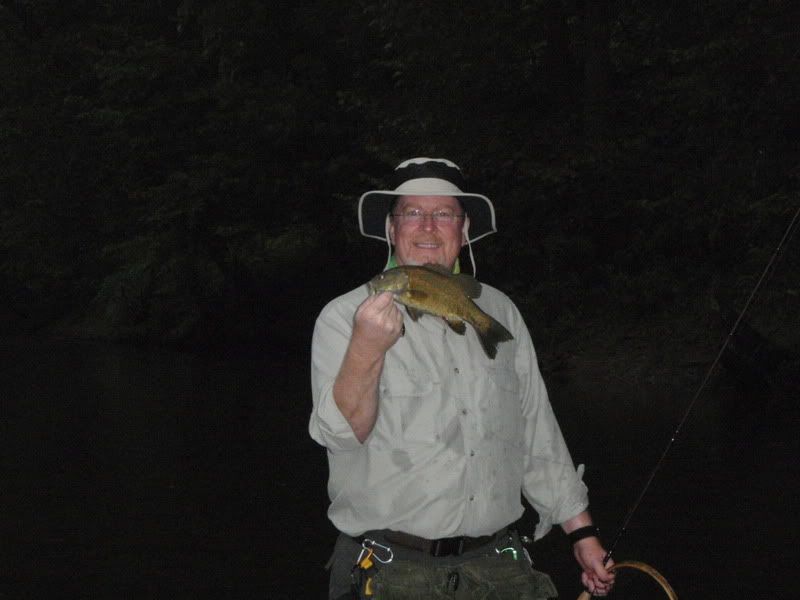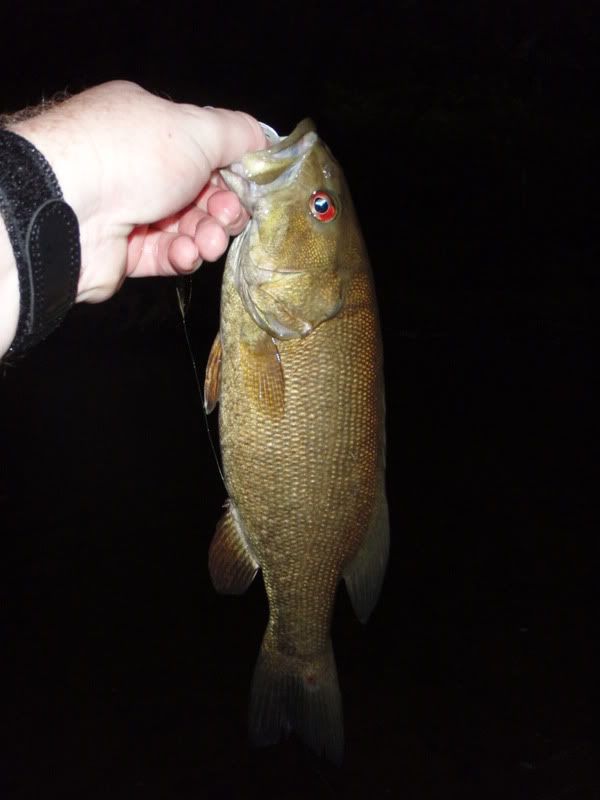 Then soon after catching my smallmouth, a storm blew in and lightening began hitting very close. It drove us off the water for around half an hour. After it blew over, we re-entered the river and continued fishing, however the bite was tough as the lightening seemed to shut the fishing down. Here are some more photos of Alan and Susanne and this beautiful flow! I ended the morning with 2 smallmouth bass. Alan added about 7-8 more to the total as he began throwing a weightless fluke. That seemed to be the meal of the day after the storm. Here are the photos from the rest of the morning.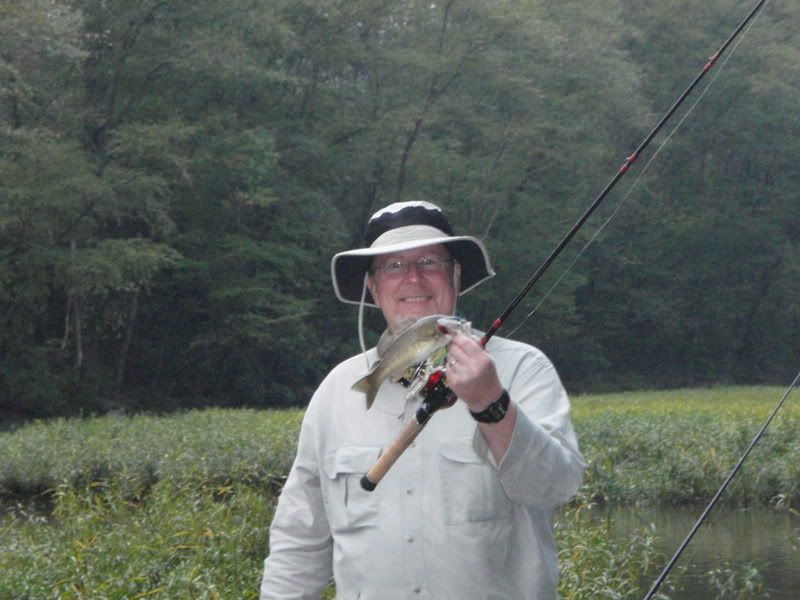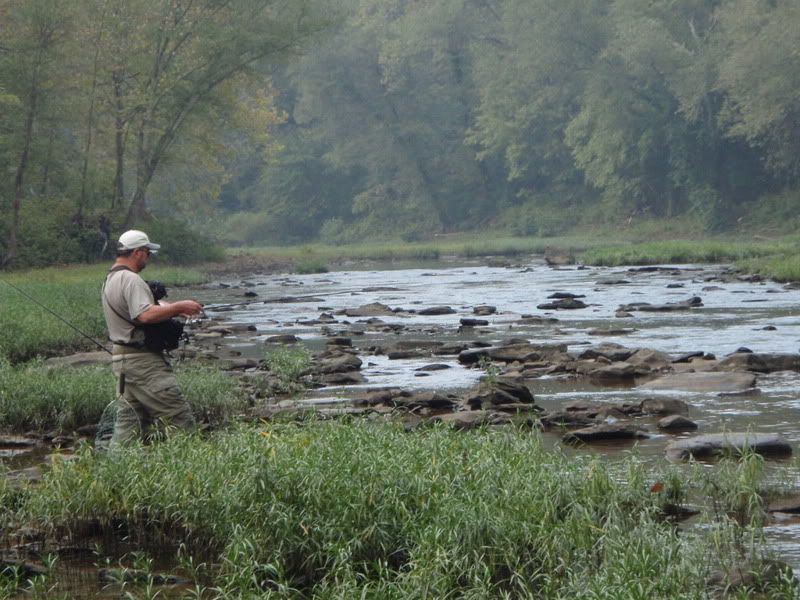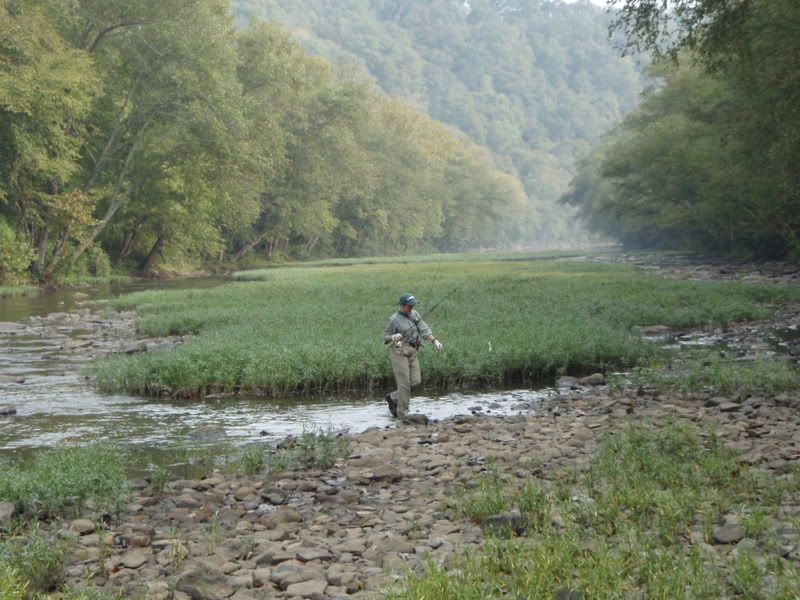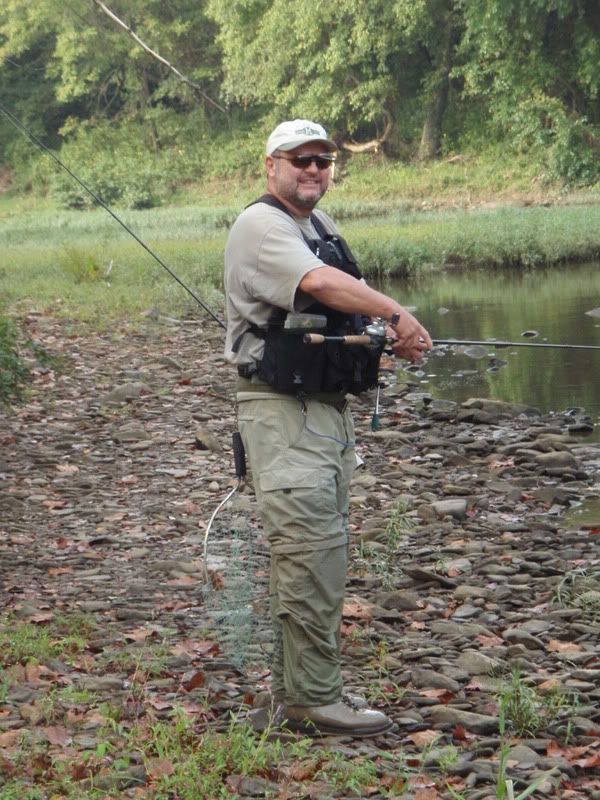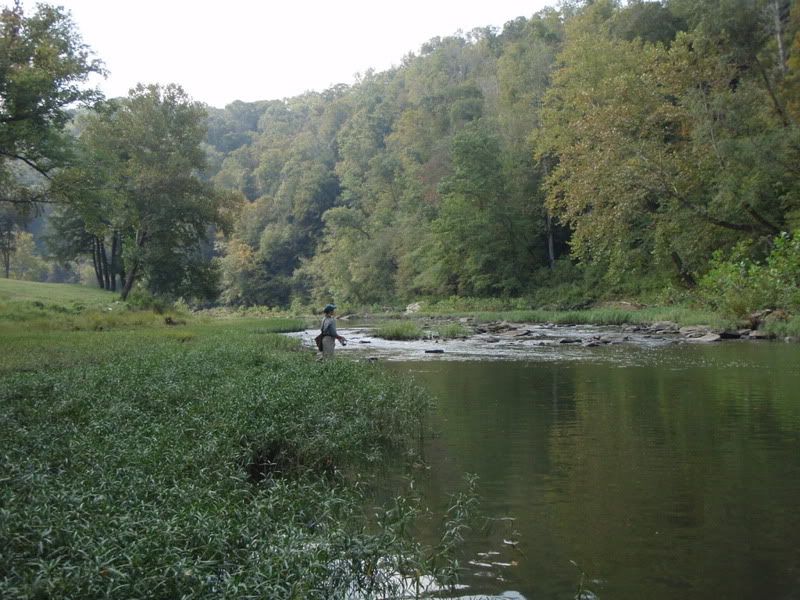 Alan, I cannot thank you enough for your generosity and friendship! Sue and I appreciate the time you spent to accommodate us and help us in this year long pursuit! Thanks, my friend.
After leaving Smfisher around 1 p.m. on Wednesday, Blue Moon and I headed for North Alabama. We were 6 hours away and wanted to get our eyes on a creek we had been researching for several months. We traveled through Kentucky, Tennessee and into Alabama. Fifteen minutes before sunset we arrived at the creek we wanted to see and it looked great! So, we checked into a motel, took a shower and went out for a steak dinner to consider our plans. As our fortune would have it, I struck up a conversation with a waiter in the restaurant and I picked his knowledge of local fishing. After a long conversation with him, a long day of driving from Kentucky and a late meal, Susanne and I were exhausted. So, we planned on sleeping in the next morning and fishing this North Alabama creek another time.
THURSDAY MORNING
Then after a good night's rest, we left the motel at 9:40 am. We could not stand it! We got to thinking about the creek and decided to fish. Therefore, we threw our luggage into my truck and drove over to Wal-Mart to buy our fishing licenses. As we were purchasing the fishing licenses, I struck up a conversation with an interesting looking customer in the sporting department. He was a local high school history teacher AND a fisherman! I gained a wealth of knowledge from him about local stream and wading creeks. After exchanging names and phone numbers, we grabbed a quick breakfast and charted our path to the creek on our Iphone's GPS.
We reached the stream around 11 a.m. It was already warm and I felt this could be a tough mid day wade. However, the cool water felt great and the creek was nice. The fishing was very tough and I only managed a small LM during our 2 hour wade. But that was o.k., as we gained a plethora of knowledge about this flow and several others in the area. Here are the photos from this creek.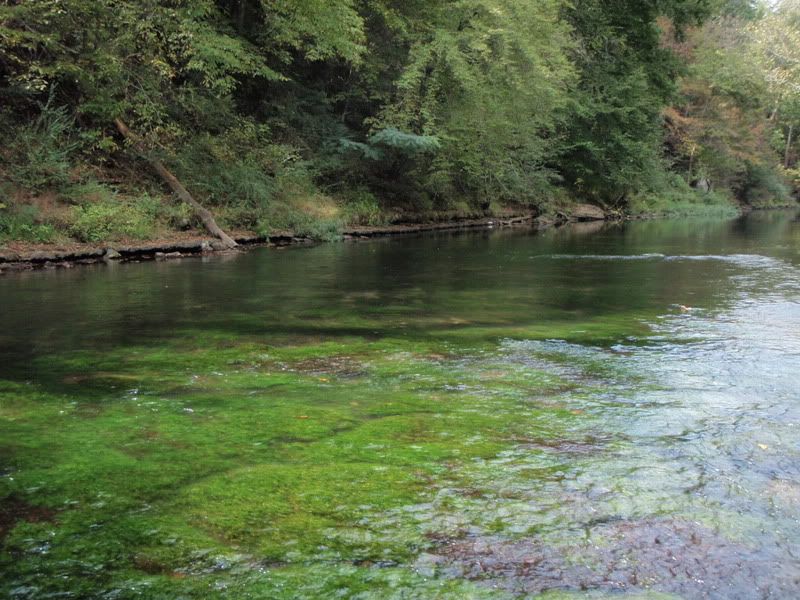 THURSDAY EVENING
After leaving the stream, which was enhanced by a copperhead which swam by Blue Moon after I spooked it out of some grass, we scouted out other access points in the area. Then we decided that since we were already hot and sweaty, and had nothing much to show for it, we would drive over to north Mississippi and fish a creek we had previously scouted out. So, we ramped onto the Natchez Trace Parkway and headed to smallmouth water in the Magnolia State. We stopped at a fast food choke-n-puke, grabbed a quick meal and charted our path to the access bridge. Well, when we got there, we found the water to be extremely low and not very promising. Plus, there were some super bubbas working on a hunting camp nearby and it reminded me of "Deliverance." Only thing missing was the banjo music. Things didn't look good. However, I had a backup plan. We drove south several miles and went to another creek. The water was low, but there was enough current to offer some possible fishing targets.
We got back into our wading socks and boots and jumped in! We only had an hour and half before dark, but we decided to give it a shot. Surely, we had paid our dues to finally have a good day.
Between us, we had purchased 8 fishing licenses, several lures, driven through 8 states and this was the fourth stream in 48 hours we were wading in! We got into the water and began casting with the intensity of a hungry dog shaking a bone. On my 5th cast, I caught a LM on a jig-n-pig. Then on the next cast I set the hook on an underwater log in a deep hole! Had to break it off, only to find I did not have another one on my person and a walk back to the truck would waste valuable daylight. So, I tied on a white spinner bait and found that to be the ticket.
We fished downstream on what looked to be perfect smallie or spotted bass water, but there were no takers. Then we tracked back and waded upstream to fish shoal areas we could see in the distance. In short, over the final 35 minutes of daylight, Susanne and I caught 10-11 Kentucky Spots as we waded upstream for about quarter mile. It was great seeing Blue Moon lay into these feisty bass! This creek is as beautiful as any I have ever been on. Our best fish was a 1 lb. 11 oz. Kentucky spot I caught out of a deep pool below a shoal area. The spots were stacked up and the closer to sunset the more active they became. Here are the photos.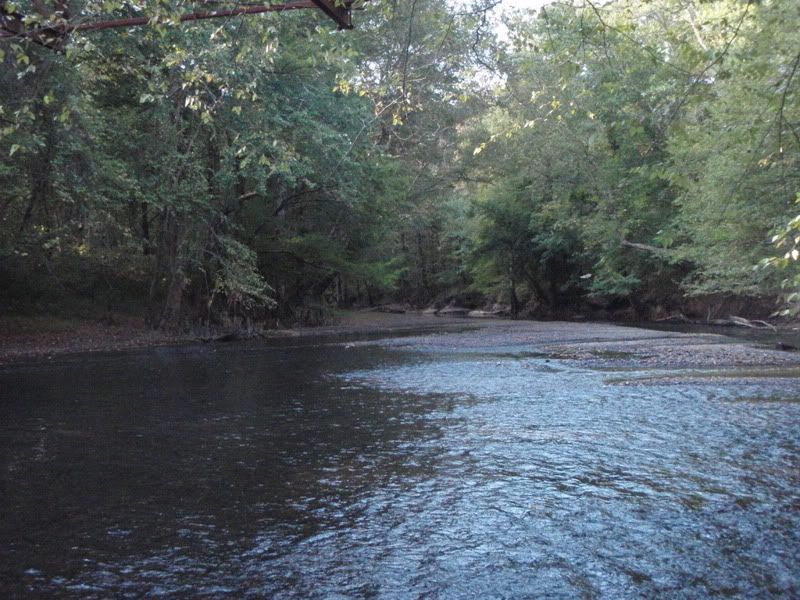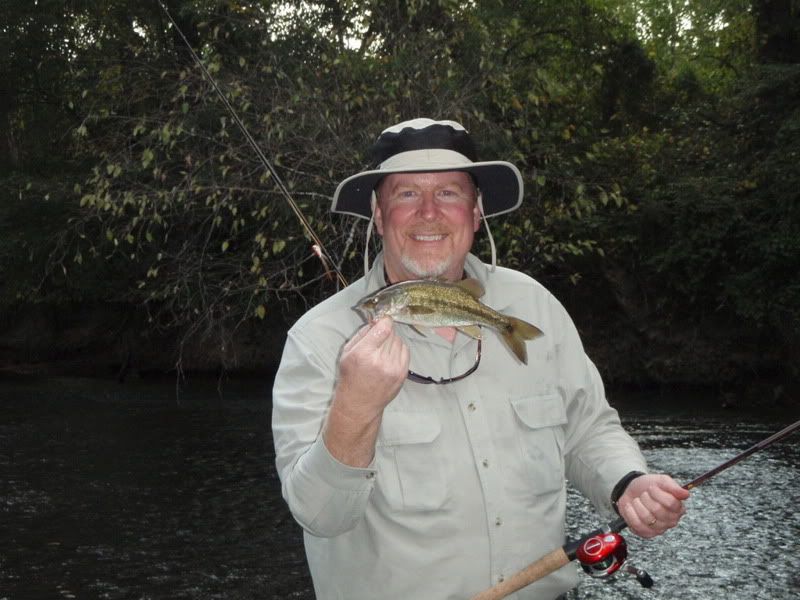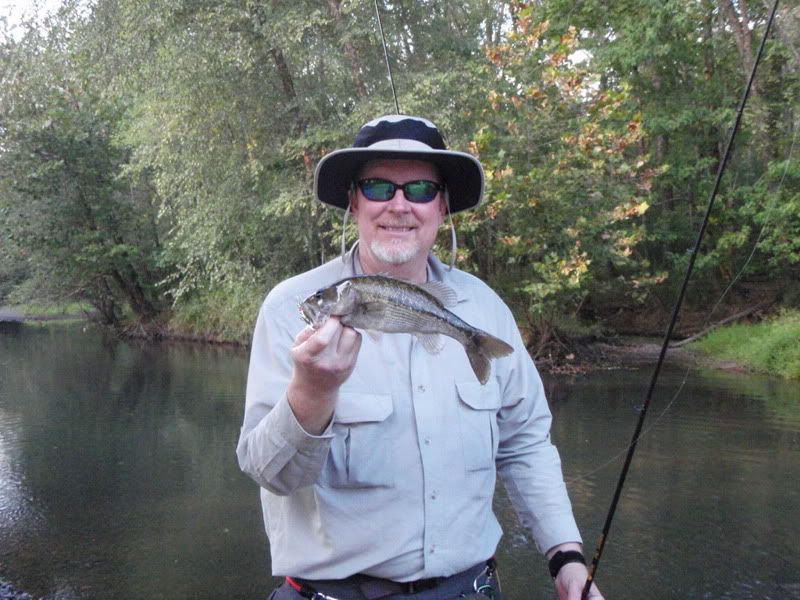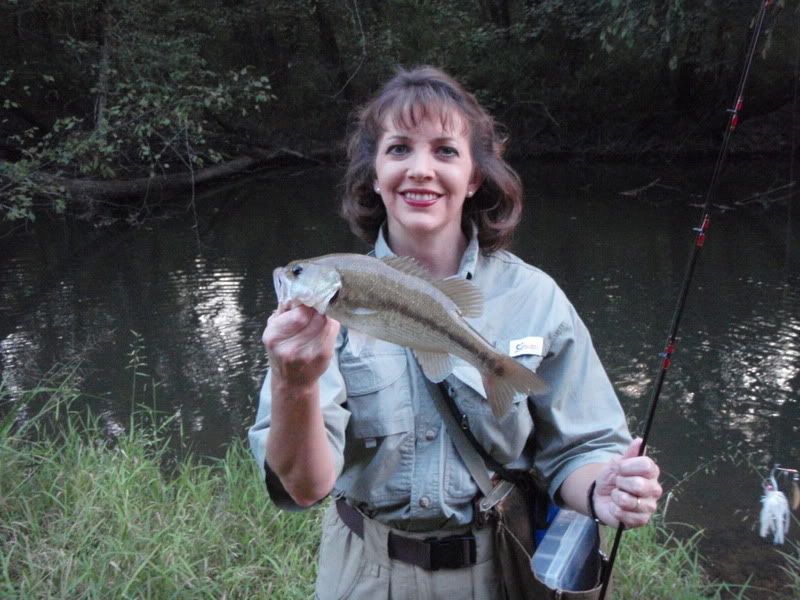 Here are the scenery photos of this Mississippi creek. The potential for smallmouth in this Mississippi water is great!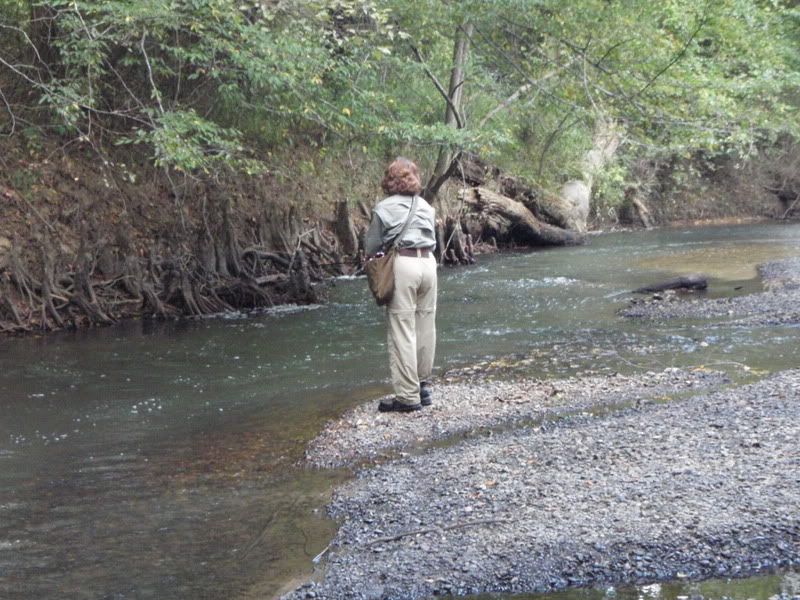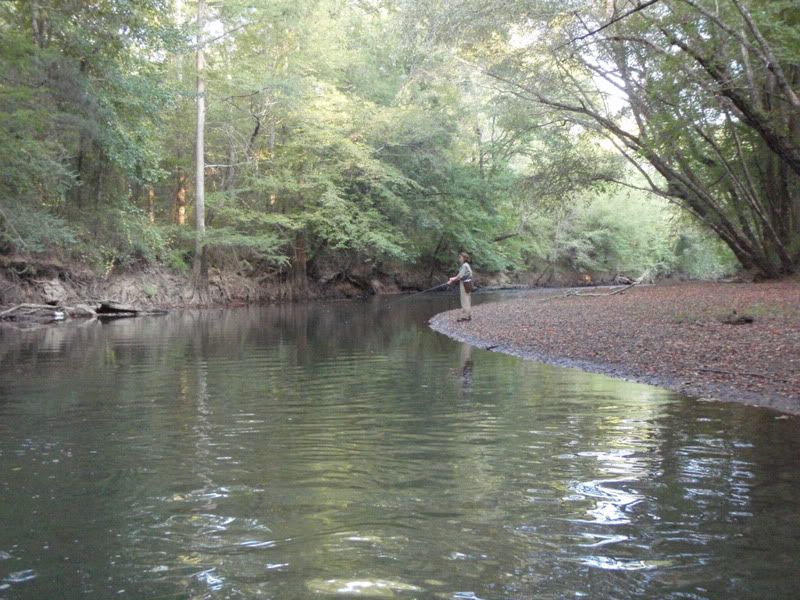 After traveling through 7 states and wading 4 streams, Susanne and I had managed 4 species from 3 different states: Rainbow Trout, Smallmouth Bass, Largemouth Bass, and Kentucky Spotted Bass! What a vacation!!!
Here is the largest fish of the trip. It was a 1 lb. 11 oz. Kentucky Spot caught in this Mississippi water.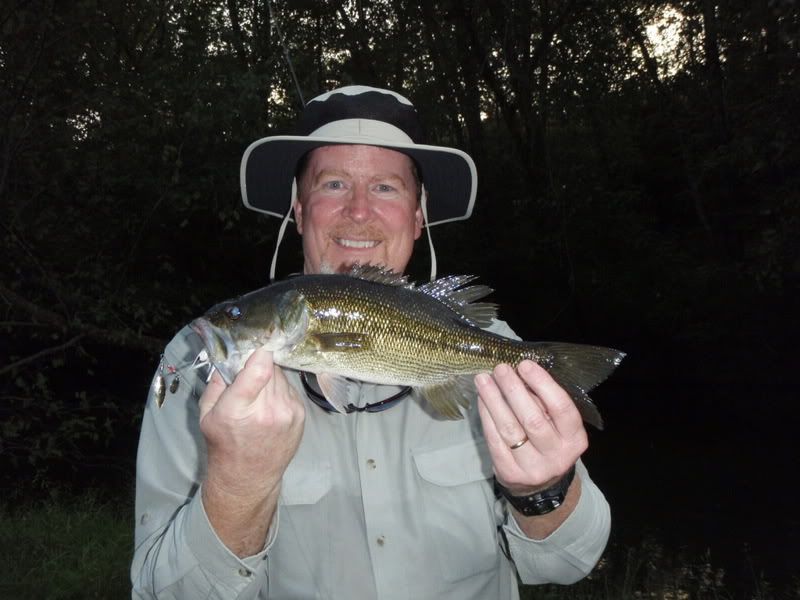 We were 3.5 hours from home. Since we had been gone for 8 days, we decided to let this Mississippi stream be the final leg of our journey, so we left the stream and drove home. What a great final leg! Here is our trip odometer as we pulled off the four-lane near our house around 11 pm. We traveled over 2,000 total miles and had a great time!
Here is my favorite photo of the whole trip. For some reason, this photo of the Mississippi creek just offers a serene view of why we love to fish small streams!
I hope you enjoyed the journey with us! God bless…