Author: Blackwater (Bill Prince) ….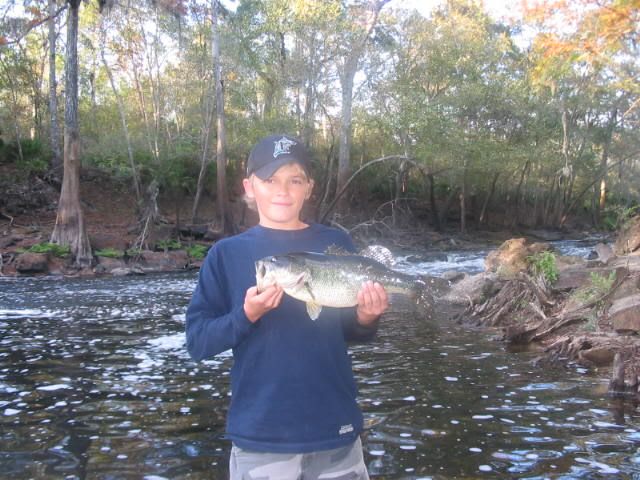 Amazingly, we needed only three pounds of bass on our virtual stringer to tie and few more ounces to win if no other team caught a fish that would add weight for them. Of course the other teams would be fishing too, and at the same time we were. The www.Georgiariverfishing.com (GRF) community has an almost year long fishing tourney for us people that are nuts about river fishing. The table below will give you the details on the rules.
1.Only black bass count (largemouth, smallmouth, shoal, spotted, redeye, suwanee and guadalupe)
2. All bass must be caught in a USA river, creek or stream using a rod and reel with artificial bait (no live bait).
3. All fish must be weighed (preferably digital scale) and photographed. Then the picture and weight must be reported on this forum- river bassin
4. All fish 3# and over must be released alive. [This rule was in the original rules, but apparently was lost in the migration from the old to the new board.]
5. Your top 3 fish count towards your score (and your teams score). 6 people on each team.
6. You can join the tournament at any time. However, no fish caught prior to your joining will count. They must be caught after you have stated your intentions of joining.
7. No "paid" guide trip fish count.
8. Tournament ends the last Sunday of November (27th)
9. No prize, just fun, fellowship and bragging rights!
LETS GET IT ON!!
Now my son William, who was then 29 years old, had come across the GRF web site while surfing the net back in February, but it took us until April to decide to join the tourney and we only had two members for our team at first, me & him, while the other teams had a full complement of six.
As time went by we talked to our fishing buddies, folks we had fished rivers with for a long time, accomplished fishermen. They were kind of skeptical about the honor system and decided to wait. In the meantime I took one of my five grandsons to Georgia's Flint River with me on a 3 day float over Memorial Day week end. Even though he was only ten years old at the time he wanted to compete so Logan became the third member of what the tourney founders had labeled the Floating Hawg Chasers. We gave that some thought and asked the tourney moderator if he would change us to The Floating Hawg Catchers (FHCs), a name that we felt made a more positive statement.
Along about here, it may be of benefit to let you know that there was a team called the Suburban Bass Assassins (SBAs) who had been formed at the first of the year and that team was in first place with around 70 pounds on their stringers at the time we started out with zero pounds at the end of April. Those old boys were good fishermen but they had reached a plateau. In river fishing once you get a three fish stringer of 12 to about 15 pounds, it becomes a real challenge to catch a bigger fish and when you do it is usually just an ounce or two. So we took a deep breathe and took off after the six other teams all of which had some weight on their stringers and full six man teams.
We put the first three fish we each caught on our stringers on the board then slowly began to cull one or two off as we made trips to the river. One of our friends that hesitated to join the tourney fished with us and caught shoal bass on two different trips of over four pounds. He could see that if he had joined the tourney he would have moved right up among the leaders, so during June Danny signed up with us. Danny began to make waves in the tourney right away. By early September he had moved up from being the last of over fifty fishermen in the field into the top ten. A bank fisherman named Scott wanted to join the tourney and was offered to us by the moderator in August so Scott was added. Turned out he caught about ten pounds off the bank then bought himself a kayak and by the time the tourney was over Scott finished in eighth place overall. A gifted fisherman who lived in Athens, Georgia, Scott was a godsend to the FHCs.
As we entered September our team still only had five members but had closed the gap on the leaders. The last of our friends that had hesitated to join the tourney was Gordon, one of the best river fishermen I had ever seen, but his business and home issues had kept him off the river for most of 2005. He decided to join us in mid-September and made one float, posting a little over six pounds that day, a tough windy day with a slow bite. We didn't know it then but due to an ailing, elderly mother, that turned out to be the only day Gordon would fish before the tourney ended on November 27. Those six pounds that he added would be critical as we fished on toward the finish.
In addition to the wonderful surprise lift in stringer weight we got from Scott, Logan, my grandson, now having turned eleven years old, was turning into a real force. Floating with five other GRFers over Labor Day weekend, Logan had the big fish of the day two of the three days.
Meanwhile I had crept up to fifth place in the tourney by the end of October and Danny had come up to third. Lo and behold Scott was eighth. So with a late start and an incomplete team for two thirds of the time in the tourney, the contest was turning into a two team race between the Floating Hwag Catchers and the Suburban Bass Assassins. For a few days in late October we actually passed the SBAs as we made it to about seventy three pounds. That was a short lived time in front as being the great competitors they are, the SBAs culled a few more pounds and made it up to seventy seven plus pounds going into the last week end which would be over the Thanksgiving holidays. We were in the mid-seventies, about three pounds behind.
Plans were made and laid and executed as the last week-end unfolded. Two of the SBAs made a trip to South Georgia while others fished in middle and north Georgia.
Scott was fishing near Athens while four of the FHCs made the trip down to the Big Bend area of Florida, where our plan was to fish the Aucilla, a river that I had scouted earlier. Although we were in and out of Jefferson, Madison and Taylor Counties and several rivers, our focus was on the Aucilla, hoping it would come through big time. I had called a total stranger seeking information, Junior Dice, who lives in Perry, FL, a legendary river fisherman. I never met a nicer man and one who gave us advice. We couldn't use the services of a guide but Junior helped us with advice as much as was ethical for us to do. He had just gotten his Captain's license and was building his fishing business part time in salt water and working for the Taylor County school system full time. Junior has become a good friend and we have shared time on the river on several occasions, in the Aucilla and the Wacissa. I recommend Junior to anyone wanting help fishing the Big Bend rivers, impoundment  s or the salt water. He lives in Perry, FL.
The FHCs had an advantage because two of our fisherman on the Aucilla had some relatively smaller fish to be culled. They both managed to cull three of the fish on Friday, with William getting two and Logan one. Those three fish added  three pounds and two ounces and got us into a dead heat with the SBAs who needing larger fish had not culled despite catching some nice ones up in Georgia that day. Saturday was tough. A front came through and despite fishing hard from dark to dark, no culling was done in Florida or Georgia by either the FHCs or the SBAs. Now we are mostly all churchgoing people but we asked forgiveness and went fishing on that last Sunday, the last day of the tourney.
We were calling in results and the GRF tourney board was being updated, therefore all competitors fishing that last day knew it was a dead heat.
The last set of events are so unreal that you almost had to be a part of the action to realize the intricacies of how it all played out. The FHCs abandoned the Aucilla after we didn't cull on Saturday and went over to the Ecofina river area called Millpond, that Logan and I had tried late in the day on Saturday with promising results, a good number of fish but no culls. So on Sunday we gave it our best with all four of us fishing the same water from daylight till 10AM or so. We caught a string that any four man group would have been proud of. However, no cull fish were to be had it seemed. So with only hours to go, we pulled out and moved. Remember now the SBAs are fishing in Georgia in various rivers, fighting the same front that we had dealt with on Saturday and with colder temperatures.
William and Danny went to Nuthall Rise and launched their final assault of the tourney in the Aucilla while Logan and I went to still a third river in the vicinity of Perry to try to cover all bases. I would name it but it is one of Junior Dice's honey holes. Again we caught a good string of fish but no culls. As we approached the take out to make the agreed time to pull out, 2PM, and start back home to Georgia, my cell phone rang with a call coming in from William. Danny has done it he says. On the last cast he would make in the 2005 tourney, Danny hooked and landed a 5-5 largemouth just across the Aucilla River from the Nuthall Rise launch. Whooohoooo!!!! William went on to say that the leading fisherman on the SBAs, Drew, who finished fourth overall in the tourney individually, and had led his team to the brink of victory, catching a 5-3 Georgia shoal bass which was his first cull since May due to already having such big fish on his stringer. Drew, one of the originators
of the tourney, had led the overall standing for much of the year. A fierce competitor and superb fisherman, Drew had for a little while given the SBAs a 3 ounce lead that day. However, onto the stage comes Danny with a 5-5 largemouth and seven cull ounces for the FHCs and yes, a one ounce lead that would be confirmed as the winning margin in an almost eleven month tourney. Sometimes truth is stranger than fiction.
The fact is all the GRFers that fished this tourney are real winners, all teams are winners and the FHCs were just fortunate to hold the top position for a few hours on the last day.
The Aucilla came through "Big Time"
Team Scores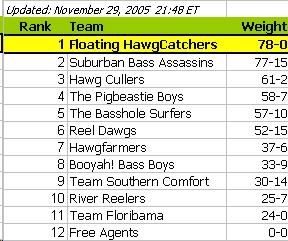 © Blackwater Bill Prince
3685 Highway 138
Covington, GA 30014
770-313-0782