May 1, 2008! The last time I have fished on a river. Cancer came calling at my door and I went through chemotherapy and radiation in the attempt to rid my body of the deadly disease. For one year I've looked out my kitchen window to see my kayak calling me back to the waters I love; back to the beautiful creation God has handed to man for enjoyment. My fly rod and casting reels collected dust and I slowly watched the months pass by with nausea, vomiting, fatigue, weakness, shingles, blood clots and peripheral neuropathy. I kept looking at articles and websites related to river bassing and longed for the day when I would get to return, but I had bigger things on my mind as survival, family and friends took center stage.
Well, this morning, April 23, 2009, I was able to return to the beautiful waters of my home state of Mississippi and float a tributary of the Chickasawhay River with the love of my life, my wife Susanne. Our life goes back a ways, three boys and the remembrance of our first date in high school when she was crowned Homecoming Queen. However, the past year, as she took care of me, she proved that she was a friend who sticks closer than a brother as she fed and took care of me through so much sickness. Fellow river fishermen from Alabama, South Carolina, Georgia, North Carolina and Mississippi sent lines of encourage my way through the modern avenue of email. Each and every one of those thoughts and prayers were felt and appreciated more than I can describe.
We put in, and though the river was stained, being on the water was a realized dream; I felt at home, back close to the land of the free and home of the brave. I couldn't get in the water fast enough as my heart ponded with the same excitement as a young boy going fishing with his dad the very first time. I just wanted to shout "Hallelujah" for the joy that filled my thankful heart for the Lord's grace which brought me through the past year.
We stopped on a shoal area and took a photo in the early morning light.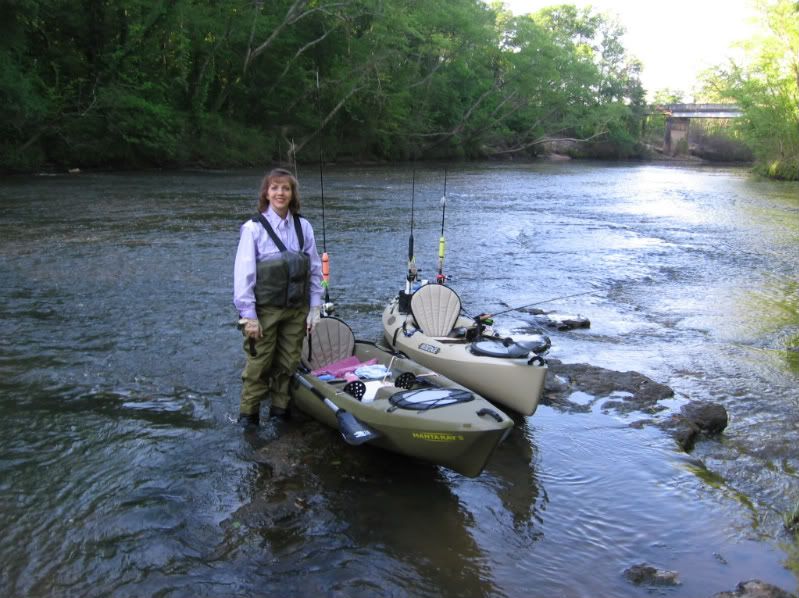 Then we paddled up a while, but the water was stained and we felt the fishing would be tough, and it was. However, we did see these turtles as they enjoyed the sun!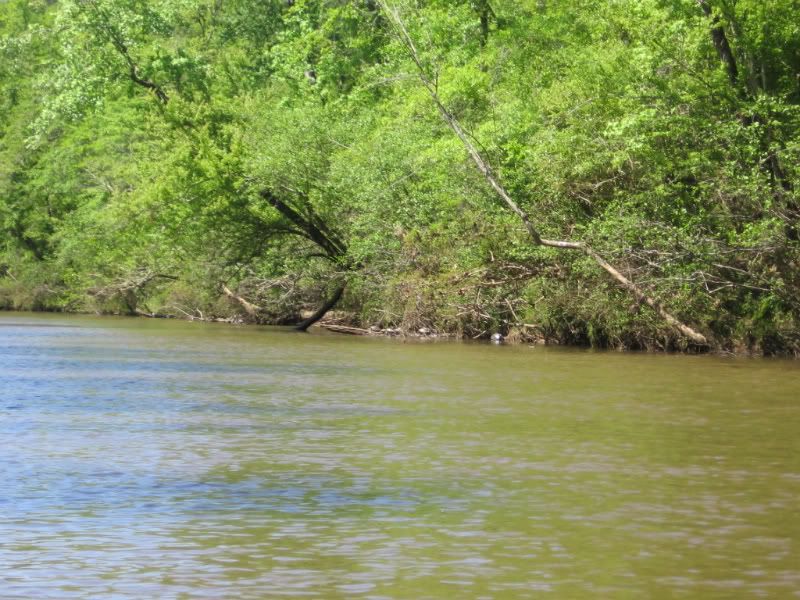 Sue was steadily casting and looking for the first bite.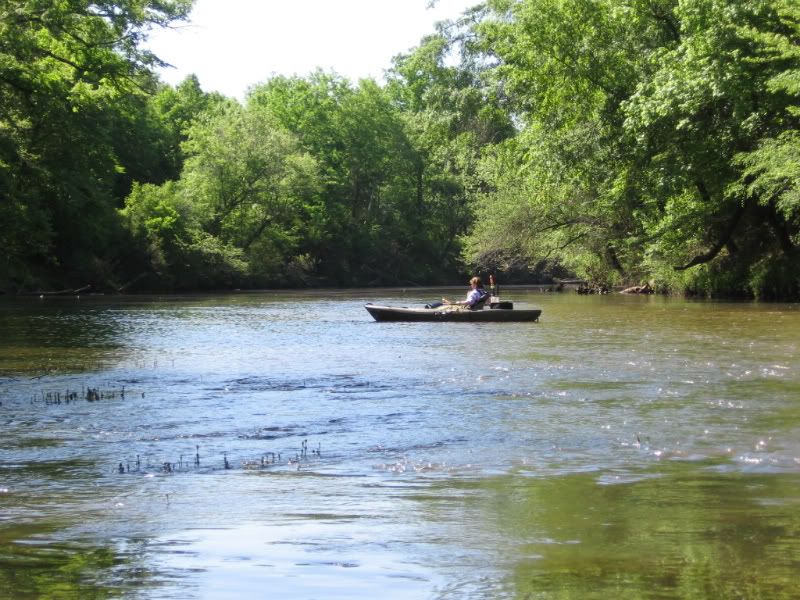 Then I spotted one of these coming right at me, so I stayed very still so he would get close enough for a photo! Yep, it is a cottonmouth!!!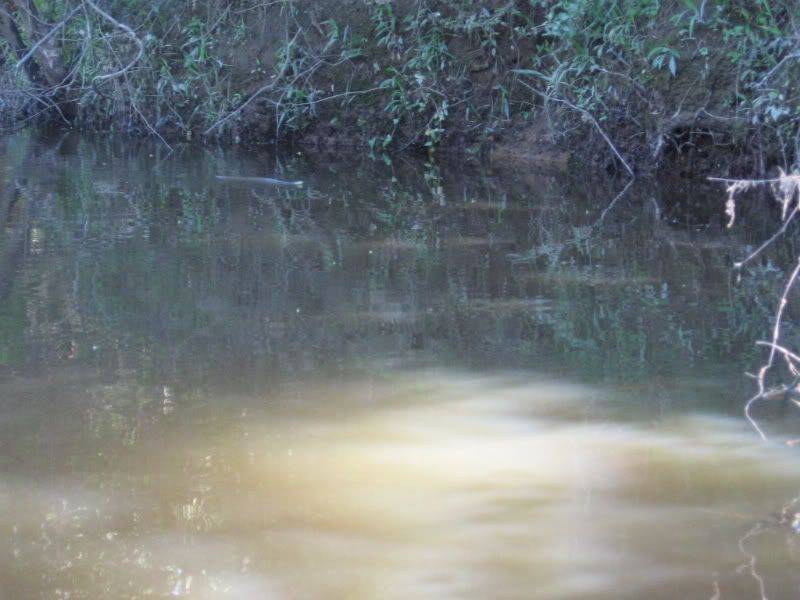 Then it happened!! After nearly a year off the rivers, my fly disappeared and the beast (well, not quiet) pulled on my line and my heart raced like it was the first fish of my life. In fact, it was the first fish of the rest of my life—the one I have been looking and thinking about for a year! And now I had him! I sat in my yak looking at him, with tears in my eyes as I pondered the pain of the past year. Yes, it was happening! I'm back on the waters and seeing fish rise to take my fly! He wasn't a shoalie monster, or a wall mount or a bragging board fish, but He was My First Fish in over a year, and I want all the world to know!!!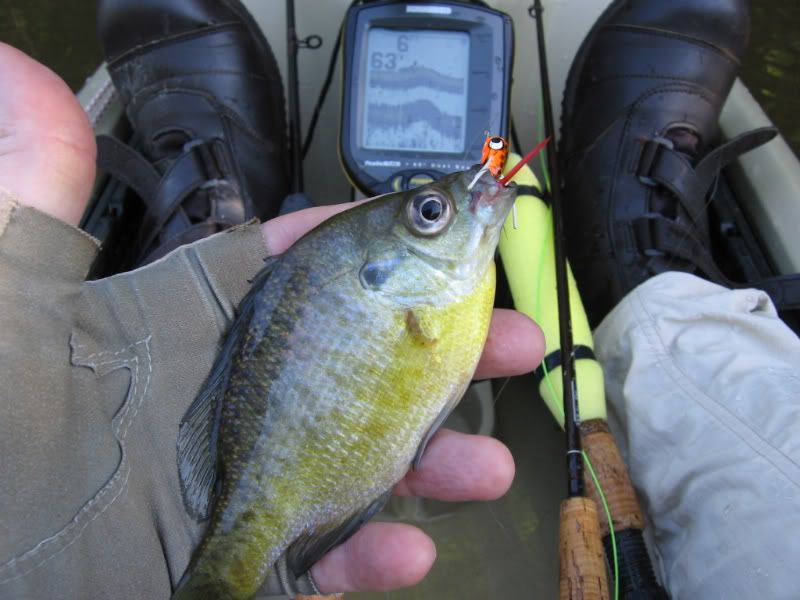 Then in just a few minutes Sue caught one on a tiny torpedo! A nice bull bluegill.
Then we paddled some more and I wanted to wade and fly fish to feel the water over my legs and wind in my face!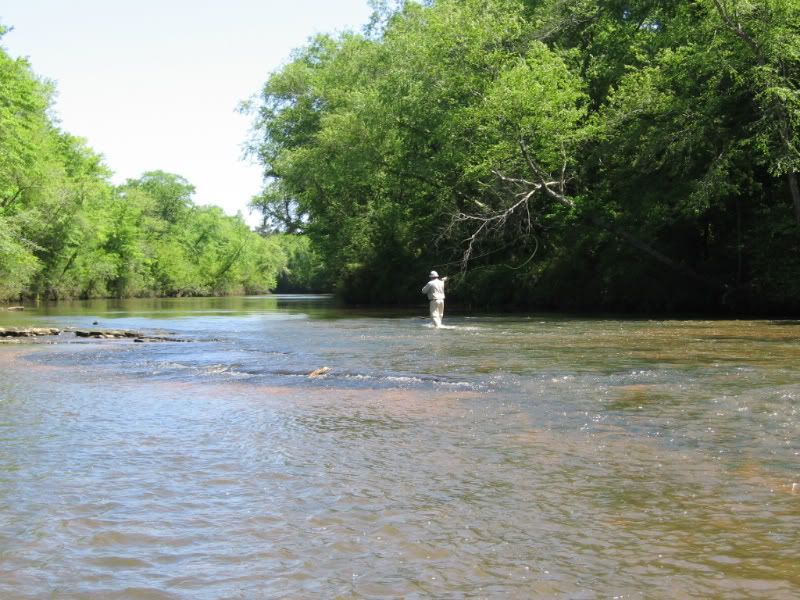 My form was very rusty, but oh how great it felt!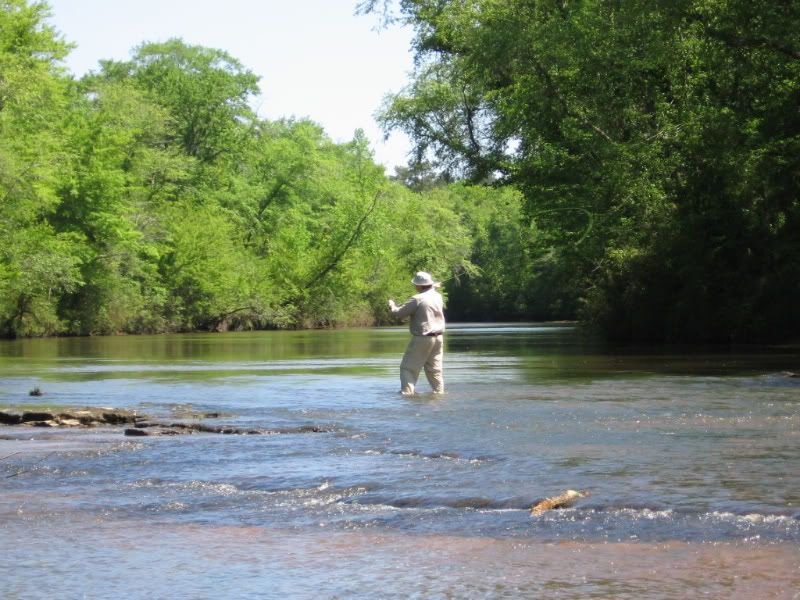 Finally, after wading and casting for awhile, I worked my way back to where we ported.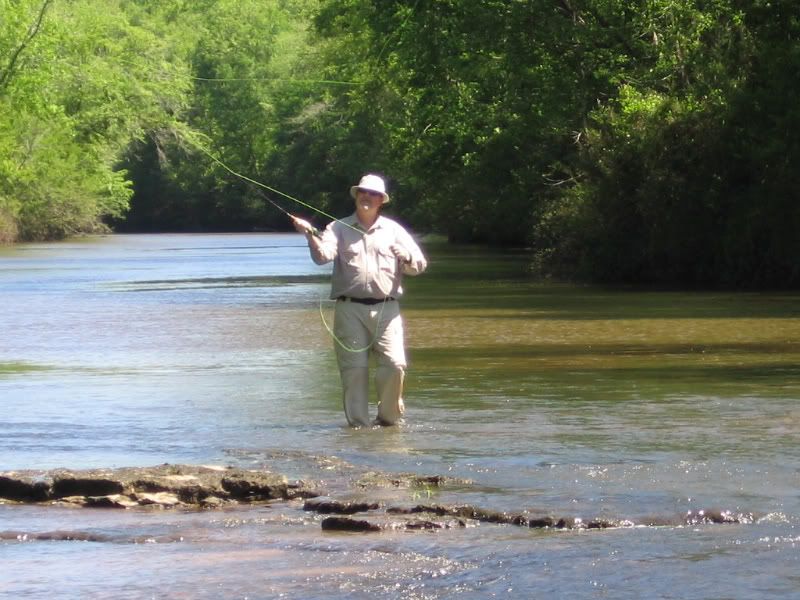 I hooked into about a 2 lb spot just before we left, but as fate would have it, he spit me out after an intense battle on my 4 wt. fly rod. He hit it, turned like a X games competitor, jumped up and ran like a train up stream peeling the line off my rod. I just knew he was mine, but he outsmarted and out worked me. But he didn't know that he dealt with a rusty ole fly fisherman, so I warned him—"I'll be back."
After catching a handful of bream, and feeling somewhat tired, we left around lunch. I photographed only one of my fish–the first one! It will not go down as a trophy or a wall hanger; however, for me, it could not have been more glorious if he weighed 10 pounds. Yes, he was my first fish after cancer, but by the Lord's grace, he will not be my last!
I end simply saying, thanks to all who have prayed for this unworthy vessel! And thanks to my Lord who has chosen, by His mercy and grace, to let me catch this first fish!
God Bless,
Terry (aka. Redfish)